Listen to what some of the Experts have to say on why 2006 is the time to invest in Gold
GATA - Exposes Gold Manipulation
John Embry

Bill Murphy - MUST READ
Clive Maund - THE GOLD BULL
Frank Barbara

Dick Whittington

JAMES TURK $850 this year
Jesse Livermoore

- Worlds Greatest
Leg2Capital Article Library

Featured Article: JAMES TURK
$ 850 GOLD THIS YEAR
Leg2Capital Article Library

Featured Article: JAMES TURK
$ 850 GOLD THIS YEAR
Through a Gold Bug's Eyes

PRESS PLAY BELOW:
- James gives us his current thoughts on the precious metals, and explains his prediction that gold will reach US$8,000/oz.

Courtesy of the Korelin Economics Report - Jan 8/2006

Note: Audio link above and article below contain different content
Author James Turk thinks the metal can shine brighter still, maybe even hitting $850 in 2006

Don't pity gold hoarders. Sure, when it's slumping, as is often the case in boom years and when the U.S. dollar is strong, they're ridiculed as eccentric and archaic. But this year they've enjoyed plenty of vindication. Earlier in December the yellow metal topped $540 per ounce, a 24-year high. Closing the year around $519, it has plenty of analysts jumping on the bandwagon.

A sign of growing interest was the launch within the last year of two exchange traded funds (ETF) that track gold: iShares Comex Gold Trust (IAU ) and streetTracks Gold Shares (GLD ). Still, there are skeptics who think gold won't continue its bull run (See BW, 12/26/05, "Hedging Against Inflation").

James Turk, author of newsletter The Freemarket Gold & Money Report, is a gold bug of long standing. A specialist in international economics, he penned the 2004 book The Coming Collapse of the Dollar and How to Profit from It: Make a Fortune by Investing in Gold and Other Hard Assets with John Rubino. Turk also founded GoldMoney.com, a Web site that gives analysis and investment advice on precious metals.

Turk recently spoke with BusinessWeek Online reporter Alex Halperin about how high gold will go, who's buying it, and why. The following are edited excerpts from their conversation.

Why has gold climbed in the past few years?
Gold responds to monetary problems. For the first few years gold was rising only against the dollar. The dollar had obvious problems in terms of the trade deficit and the federal budget deficit. But what has happened over the past years is that gold has been rising against all national currencies, and that's significant.

What happens when there are problems with a national currency is that people begin to worry about the value of their money, whether they're going to lose purchasing power because of inflation or other problems. As a consequence, they look for safe havens.

Initially, when there were problems with the dollar, people saw the euro as safe. But in May, [after] the French and Dutch votes that rejected the European constitution, people began looking at the euro and realized it wasn't the haven they thought it was. Since then the riots in France and all the other bad news coming out of Europe have reinforced that view. Consequently, money has been moving to gold.

But haven't European countries been selling their gold?
They have, but they haven't been selling enough to keep prices from rising. The demand for gold has been very strong worldwide, and it's going to get stronger. Gold has reached the $500 level, which has eluded it for the past 24 years. Everyone who has bought gold over the past 24 years is making money.

It's still below its high in January, 1980, of approximately $850. In today's dollars [taking inflation into account], to match the purchasing power, you need $2,200 and gold's only at $519, so we're well below the 1980 high.

How high do you think it's going to go?
My expectation is that we're going to see $600 in the first quarter of 2006, and sometime over the course of 2006 we're going to touch that $850 level.

Why is it such an unusual view that gold is going to keep rising?
Gold has been off everyone's radar screens for the past 20 years because it has basically been in a sideways trading range. As a consequence, a lot of things changed. People have been focusing more on financial assets than on tangible ones. Just like we had a movement at the end of the 1960s bull market from financial assets into tangibles, over the past few years we've had a movement from financial into tangible assets as well after the stock market peaked in 2000.... We're up now 5 years in a row. I think 2006 is going to be the sixth.

People aren't oblivious to it. For example, The Economist called gold a "barbarous relic." Why is there such hostility?
There's a lot of antigold propaganda, partly because economic theories don't explain what gold is and how it works. It became politically incorrect to think of gold as money once it had supposedly been demonetized in 1971, when President Nixon closed the gold window. But the reality is, monetary theory is one thing and the way gold works in the real world is entirely different.

You mentioned that gold isn't politically correct. What do you mean?
In 1971 Nixon closed the gold window -- he said that gold was being demonetized. The reality is that gold still is money, but what's being demonetized is the dollar. Every year the purchasing power of the dollar is being eroded by inflation.

Why is gold still a safe haven?
The way it works is gold is money. Gold is the only asset we produce for accumulation. Every other good and service we produce is consumed. Gold is hoarded. Essentially all the gold ever mined throughout history currently exists in above-ground stocks.

That's not true for anything else. Even copper is consumed in the sense that it is dispersed in millions of applications around the globe. The fact that gold is hoarded is what makes it money. And it's very useful for economic calculations for prices of goods and services over long periods of time.

Wouldn't it be better to invest in something like copper, which is so useful? You know that eventually someone's going to want to buy it.
Copper has use in terms of industrial applications. Gold has use in monetary applications. So you'd buy copper if you want to build engines. You buy gold if you want to have a safe haven for your money.

Who is interested in buying gold these days?
The most significant buyers over the past few years have been individuals. Gold goes to where the wealth is being created. So for example, the European central banks have been disgorging gold from their vaults, and that gold is going to China and India because that's where new wealth is being created. Gold is also going to the Middle East with the rise in energy prices.

So the central banks of China and India are accumulating gold?
The Central Bank of China apparently is buying. There has been no evidence that the Central Bank of India is buying. But individuals in those countries are accumulating the gold, and that's what Americans have to be looking at.

How can an individual invest in gold?
We use the term investment, but that's a little bit misleading. The amount of crude oil that you can buy with an ounce of gold is the same as it was 50 years ago. So in that sense, gold hasn't really provided any rate of return. What we call the rate of return in gold is actually the loss of purchasing power of the dollar.

You can only have a rate of return when you take that gold and take risks with it, as you would a normal investment. You either take that gold and buy stocks with it, or you lend it to generate some kind of rate of return.

So when you look at an investment portfolio and you have stocks, bonds, and cash, gold should be counted as part of your cash. It should be that part of the portfolio that provides liquidity.

What do you think of the gold exchange traded funds?
iShares Comex Gold Trust (IAU ) and streetTracks Gold Shares (GLD ) are not an alternative to owning physical metal. They're a convenient way to speculate on the price of gold. They don't prove that the gold actually exists in the vaults of the custodians and the sub-custodians with an audit.

If the dollar becomes stronger again or another currency emerges as the sort of investment that people want to put money into, will it affect the price of gold?
A few years ago when the dollar was beginning to fall of the edge of a cliff, people started putting their money into the euro. But in the past few years we've seen the price of gold rising not only against the dollar, but also against the euro, the Swiss franc, and the Japanese yen.

Gold is rising in terms of every major national currency. You haven't had this since the 1970s. What happened then was there was a flight out of national currency because people became concerned about inflation and other monetary problems. This is going to continue in my view in the years ahead.

24 HR LIVE GOLD CHART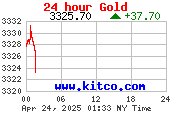 If you have comments or questions, email info@leg2capital.com